Micro Centrifuge
---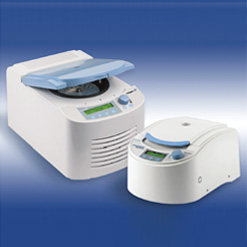 Micro Centrifuge

Prism & Prism R Centrifuge
Labnet's new Prism R has quickly become a worldwide market leader in the refrigerated microcentrifuge category. In spite of its remarkably small footprint, the Prism R combines a powerful – yet silent – brushless drive with the most efficient cooling system available. Starting from room temperature, the chamber of the Prism R cools to 4oC in just 8 minutes. Our control panel has been updated from our previous centrifuge models, and features a back-lit Liquid Crystal Display to show running parameters. A large control knob allows quick digital setting of rotor speed, run time and temperature.
The large, easy-to-read display shows all operating parameters at once, and allows the setting and display of rotor speed in RPM or G-Force. Speed can be set through a range of 500 to 13,500 RPM, or 500 to 17,135 x g. The high end of the speed range allows quick pelleting of DNA, Protein and other molecular samples. The digital timer can be set from 0.5 to 99 minutes or continuous, and a convenient "quick" run button can be used for momentary runs.
Labnet's brushless drive technology has been fine tuned in the Prism R to deliver fast acceleration and deceleration of the solid, anodized aluminum rotor. This higher performance means faster sample processing and less waiting. The motor isolation system virtually eliminates vibration even at maximum speed with a slightly imbalanced sample load. In the case of a significant imbalance a detection system automatically shuts down operation.
Powerful refrigerated system and Quick-COOL to 4°C in 8 min.
Includes easy access rotor (24 X 1.5ml) up to 17,135xg
Exceptionally quiet and compact
Optional StripSpin™ adapter for 0.2ml tubes and strips
Catalog No.
C2500*
C2500-R*
Description
Prism air-cooled microcentrifuge with 24 place rotor
Prism R refrigerated microcentrifuge with 24 place rotor
View More
Make a Request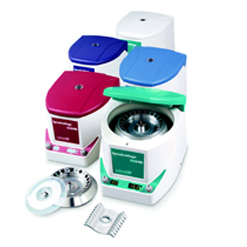 Micro Centrifuge

Spectrafuge 24D Digital Microcentrifuge
Advanced performance and technology
Labnet's new Spectrafuge 24D combines innovations such as a unique, easy access rotor, exclusive multi-flow air cooling system and high performance drive. In addition, the 24D features a digital microprocessor that precisely regulates all aspects of operation. Despite all of its upgrades, this newest member of the Spectrafuge family maintains the tradition of being the most economical centrifuge in its class.
Intuitive control system
Two "smart" knobs are used to control all operating parameters, while speed and time values are shown digitally on large displays. Switching from rpm to g-force is accomplished by pressing the speed control knob. Turning the knob allows the speed value to be set quickly and easily. Run times from 30 seconds to 30 minutes (or continuous) are set with the timer knob. Pressing the timer knob starts operation. For quick spins, this knob can be pressed and held, and elapsed time is shown on the display.
Smooth operation
The powerful, brushless motor in the Spectrafuge 24D quickly and effortlessly accelerates the rotor to set speed. A computer designed isolation system allows for vibration free operation, even with a slight imbalance. A detector shuts down the centrifuge in the case of a significant imbalance. Deceleration at the end of a run is very fast, yet will not disrupt samples. Once the rotor has come to a complete stop, the lid automatically unlocks.
Catalog No.
C-2400*
C-2400-B*
C-2400-R*
Description
Spectrafuge 24D, standard gray
Spectrafuge 24D, blue accents
Spectrafuge 24D, red accents
View More
Make a Request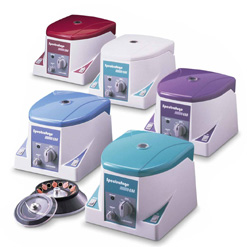 Micro Centrifuge

Spectrafuge™ 16M High Performance Microcentrifuge
Everything you ever wanted in a microcentrifuge
Labnet's high speed Spectrafuge™ 16M is the culmination of many years of centrifuge design experience combined with the latest brushless drive technology. In the development process, we sought out our customers' input and produced a microcentrifuge that met all their requirements. The result is a remarkably quiet and cool running unit that requires a minimum of bench space. Although the Spectrafuge is a high performance, brushless microecentrifuge, it is priced below most brush models.
Brushless motor
The Spectrafuge 16M is powered by a maintenance-free brushless motor. There are no brushes to change and no carbon dust emissions. This high performance motor is extremely quiet and generates a minimal amount of heat while running. It also allows for exceptionally fast acceleration and deceleration of the rotor.
Cool operation
The unique air ducting system in the Spectrafuge 16M supplies a continuous flow of ambient air to the rotor chamber. This airflow keeps the rotor cool and prevents a significant rise in sample temperature. For applications requiring conditions below ambient, the Spectrafuge 16M can be used in refrigerated environments.
Catalog No.
C-0160
C-0160-B
C-0160-R
Description
Spectrafuge 16M, 120V, standard gray
Spectrafuge 16M, 120V, blue accents
Spectrafuge 16M, 120V, red accents
View More
Make a Request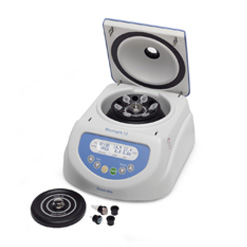 Micro Centrifuge

Microspin 12 high-speed microcentrifuge
Compact high-speed benchtop microcentrifuge with a built-in rotor for 12 x 1.5/2ml Ltdmicrotubes. Ideal for biomedical laboratories.
Centrifugation speed: 100-14,500 rpm, RCF 12,400xg
Fixed angular aluminium rotor accommodates 12 x 1.5/2 ml microtubes, supplied with adapters for 0.2ml and 0.5ml tubes
Timed operation (1 to 30 minutes), with automatic switch-off
Suitable to use in cold rooms, operating temperature ambient +4°C to +25°C
Very small footprint
Description
Microspin 12 high-speed microcentrifuge
View More
Make a Request