Dry Block Heater
---
Dry Block Heater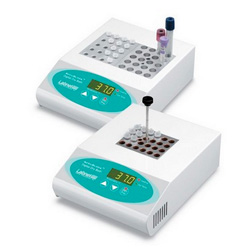 Dry Block Heater

AccuBlock™ Digital Dry Baths
A broad temperature range, to 150ºC, makes Labnet's AccuBlock™ Digital Dry Baths useful for a variety of applications in molecular biology, histology, clinical, environmental and industrial laboratories. Although the price of these baths is comparable to analog models, they feature microprocessor control and digital setting/display of temperature.
Microprocessor control
A microprocessor regulates the high wattage heaters in the baths to provide precise, accurate control. The exact desired temperature is easily set using the arrow keys on the sloped control panel while values are shown on the large digital display. No checking of a thermometer and readjusting temperature is necessary. The user calibration feature allows for easy calibration to in house standards when required. An RS232 port is provided for monitoring and recording temperature.
Stainless steel block chamber
The block chamber of the AccuBlock Digital Dry Baths is constructed of stainless steel, which acts as a heat sink and provides a uniform transfer of heat from the heating elements to the interchangeable blocks. The resulting block uniformity is excellent, ensuring that all samples receive the same temperature treatment, regardless of their position in the block.
Catalog No.
D1100-230V
D1200-230V
Description
AccuBlock Digital Dry Bath, single block, 230V
AccuBlock Digital Dry Bath, dual block, 230V
View More
Make a Request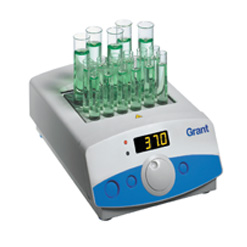 Dry Block Heater

QB Dry block heating systems
for test tubes, microtubes and microplates ambient +5°C to 200°C
Dry block heating systems combining superb temperature control and uniformity with high quality design and great versatility. A premium product range at an affordable price.
Accurate, reproducible, rapid and safe heating of your samples – due to advanced temperature control combined with high quality, precision-engineered blocks providing excellent thermal contact
Versatile range of interchangeable heating blocks to fit any sample tube or plate – from our standard range of blocks, or custom-made blocks to suit your application
Full range of models and options for basic through to more sophisticated applications
Catalog No.
QBD1
QBD2
QBD4
QBH2
QBA1
QBA2
Description
Dry block heaters» 1-block system
Dry block heaters» 2-block system
Dry block heaters» 4-block system
Dry block heaters» 2-block system
Dry block heaters» 1-block system
Dry block heaters» 2-block system
View More
Make a Request