Power Supply
---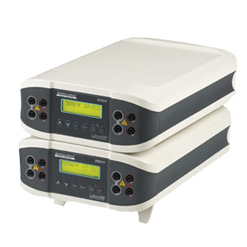 Power Supply

ENDURO™ Laboratory Equipment Power Supplies
Intelligent Power Supplies for the Lab
The ENDURO™ Power Supplies are ideal for DNA, RNA and protein electrophoresis as well as blotting. They provide a high degree of sophistication and versatility yet are extremely easy to use. Three models are available to meet a variety of needs.
Dependable performance, intelligent control
Simple to program
Constant voltage, current or wattage
Compact, lightweight and stackable
Catalog No.
E0203
E0303
E0304
E0500-R
E0304-R
Description
ENDURO™ 250V power supply, 5 to 250VDC, 0.01 to 3A, 1 to 300W output, 120V
ENDURO™ 300V power supply, 2 to 300VDC, 4 to 500mA output, 90W, 120V
ENDURO™ Mini 300V, 10 to 300VDC, 10 - 400mA, 60W, 100-240V
ENDURO™ 500V Power Supply
ENDURO™ PowerStack
View More
Make a Request