UV Gel Doc
---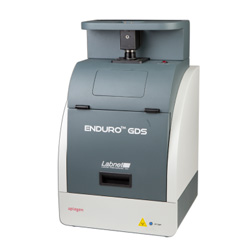 UV Gel Doc

ENDURO™ GDS Gel Documentation System
Labnet International is proud to introduce the ENDURO™ GDS Gel Documentation System. This state-of-the-art imaging system provides an incredible combination of performance and value. It is a perfect fit with the rapidly expanding ENDURO™ Electrophoresis and Labnet Molecular Biology.
Exceptional Resolution – 5MP Scientific Camera
Ready to Use – Ready to connect to PC out of the box
Innovative cabinet – Built in UV transilluminator, safety shut off switch and viewing port
Large Field of view – 20cm x 24 cm viewing area
No focus needed – never have to touch camera
AutoExposure – no manual manipulation of aperture or shutter speeds required.
Catalog No.
GDS-1302

GDST-1302
Description
Enduro GDS Imaging System-universal voltage, includes 5MP camera, prefocused lens, Orange filter, UV transilluminator and Enduro GDS Image capture software. 302 nm, US, EU and UK power cords
Enduro GDS Touch Imaging System, 302 nm, includes 5 MP camera, manual F 1.4 lens, integrated Touchscreen computer, universal voltage
View More
Make a Request