Hybridization Oven
---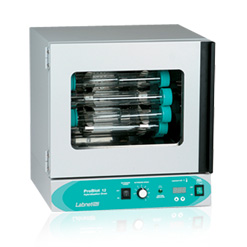 Hybridization Oven

ProBlot Hybridization Ovens
Proven Method for hybridization
This versatile hybridization oven has a built in shaker and provides the perfect conditions for consistent results. Mechanical convection circulates air through the chamber to create an extremely uniform environment, while heat input is controlled by a top of the line microprocessor. You can also easily view your running samples through the window on the front door of the unit allowing visualization without disrupting internal temperature.
Catalog No.
H1200A-230V*

H1200SA-230V*

H1200-18

H1200-250A
H1200-RA
H1212-35A

H1212-40VA
H1264-HA
H1264-VA
B0753
B1500-CAP
B1500-SEAL
B1503
B1503-PC
B2503
B2753
B3003
B3003-DC
B3003-PC
Description
ProBlot 12 Hybridization Oven with 2 large bottles and one pack mesh, 230V* (specify cord type by adding -EU or -UK)
ProBlot 12S Hybridization Oven with built-in shaker, 2 large bottles, 1 pk mesh, 230V *(to specify cord type add -EU or -UK)
Universal platform for flask clamps (max, 2 x 1L, 5 x 500 ml, 12 x 125 ml, 15 x 50 ml), for ProBlot 12S only
Flask platform with 6 x 250 ml flask clamps, for ProBlot 12S only
Rocking platform with attachment hardware, fits both H5000 and H5100
"Rotisserie for 12 of 300 x 35 mm diameter bottles, 24 of 150 x 35 mm diameter bottles or 24 of 50 mltubes horizontal. Fits H5000 only."
Rotisserie for 12 x 50 mltubes held vertically, fits H5000 only
Rotisserie for 64 x 1.5 ml or 32 x 15 ml, horizontal, fits H5000 only
Rotisserie for 64 x 1.5 ml or 32 x 15 ml, vertical, fits H5000 only
Extra small hybridization bottle, 75 x 35mm
Bottle rack for six 35 mm diameter bottles
Replacement cap with PTFE protected silicon rubber seal, fits all ProBlot 35mm bottlesbottles
Replacement PTFE protected silicon rubber seal, pack of 10, fits all ProBlot 35mm diameter bottles
Small hybridization bottle, 150 x 35mm
Small hybridization bottle, 150 x 35mm, plastic coated
Medium hybridization bottle, 250 x 35mm
Small hybridization bottle, with two 75mm chambers
Large hybridization bottle, 300 x 35mm
Large hybridization bottle, 300 x 35mm, w/caps on both ends
Large hybridization bottle, 300x35mm, plastic coated
View More
Make a Request