Pipette Controller
---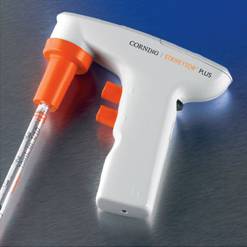 Plus Pipetting Controller

Corning® Stripettor™ Plus Pipetting Controller
The new Corning Stripettor Plus is comfortable, lightweight, and designed for use with most brands of serological pipets. Speed range is adjustable via a control wheel on the back of the instrument, and aspirating and dispensing can be finely controlled by the pressure-sensitive buttons. A convenient wall hanger, charging stand, and spare filters are included with the Stripettor Plus, and when fully charged, the high capacity Lithium-Ion battery allows continuous pipetting for up to 4.5 hours. A battery indicator light lets the user know when it's time to recharge; the Stripettor Plus can be used while charging. The charging stand allows storage on its back, even with pipet inserted.
Ergonomic, comfortable design
Wall hanger, charging stand, charging power supply, and spare filters included
Variable speed range and pressure sensitive control buttons
Settings for blow out or slow "gravity" dispensing
Compatible with pipets from 1 mL to 100 mL
Includes hydrophobic, PTFE 0.2 μm filters
Fast aspiration and dispensing speed at highest setting: 25 mL in 2.5 seconds
Li-Ion battery provides 4.5 hours of continuous use
Description
Stripettor Plus with three 0.2 μm filters, wall hanger and charger
View More
Make a Request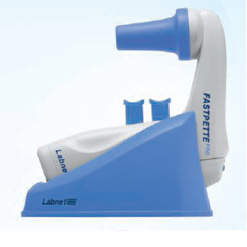 PIPETTE CONTROLLER

FASTPETTE PRO PIPETTE CONTROLLER
The new FASTPETTE PRO -lightweight and ergonomically shaped motorized pipette controller designed for work with glass or plastic serological pipettes from 0.5 to 100 ml range. Conveniently positioned switches allow choosing defferent operation modes and speed depending on the volume of the serological pipette and liquid viscosity. Additionally aspirating and dispensing speed is controlled through two comfortable finger triggers. When fully charged, the NiMH vatteries enacle up to eight hours of continuous use. The large LCD display indicates the battery status along with the pipetting mode and speed selected.
Catalog No.
P2000-230V

P2002-230V
P2016
P2021
P2023
P2024
Description
FastPette V2 with three 0.2 μm filters, wall hanger and charger, 230V (add -EU or -UK to specify cord type)
Fastpette Pro pipette controller with two-position charging stand, additional autoclavable filter 0.2μm, and universal power supply. (Suitable for US, EU, UK and AU)
FastPette power supply UK plug
Replacement silicone pipette holder
PTFE autoclavable filter, 0.2um, pk of 5
PTFE autoclavable filter, 0.45um, pk of 5
View More
Make a Request