Mini Centrifuge
---
Mini Centrifuge

Corning® LSE™ Mini Microcentrifuge
The Corning LSE Mini Microcentrifuge is a personal benchtop instrument designed for quick spin downs of micro-samples. Operation is simple and convenient; after loading sample tubes, close the lid and the rotor accelerates quickly to 6000 rpm (2000 x g). This speed range is ideal for bringing small droplets to the bottom of the tubes, for micro-filtrations, or basic separations. Press the lid release button and rotor comes to a stop.
The LSE Mini Microcentrifuge includes an 8-place rotor that will accept standard 1.5 mL to 2.0 mL microcentrifuge tubes, and adapters are included for 0.5/0.4 mL and 0.2 mL tubes. Also included is a 4-place rotor for PCR strip tubes.
Compact, lightweight and easy-to-use
Close the lid to start, press the lid release button to stop
8 x 1.5/2.0 mL rotor and 4-place strip tube rotors included
Fixed speed of 6000 rpm generates 2000 x g
Description
Corning® LSE™ Mini Microcentrifuge. 230V, EU Plug
View More
Make a Request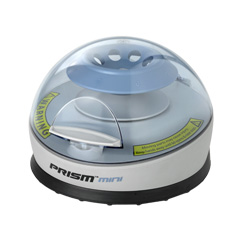 Mini Centrifuge

Prism Mini
Labnet's Prism Mini enhances the centrifuge product line by offering updated features and benefi ts to our successful Spectrafuge Mini. Reliable and easy-to-use, the Prism Mini is compact and economical, allowing each workstation to be equipped with a "personal" centrifuge. Ideal for quick spins, it can be used for a wide range of molecular biology separations The centrifuge was designed to be extremely compact with an exceptionally small footprint. Included are 2 quick release interchangeable rotors, which spin up to 6000 RPM's. The electronic brake and self opening lid allow for quick deceleration to reduce handling time. A maintenance-free drive system and unique design allow for quiet operation and excellent air-fl ow, to protect temperature-sensitive samples. This centrifuge is also cold room compatible.
New rotor designs for increased sample capacity
Self opening lid enables single-handed operation
Quick release rotor hub allows for easy rotor exchange
Built-in braking system for rapid sample processing
Catalog No.
C1801-230V-EU
Description
Prism Mini Centrifuge complete with 8 place 1.5/2.0ml rotor and 4 place PCR strip rotor, 230V, EU cord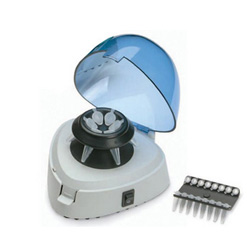 Mini Centrifuge

Spectrafuge™ Mini Centrifuge
Complete with interchangeable rotors for microtubes and PCR* strips
Ideal for microfiltration and quick spins
Durable lid hinge
Compact design, small footprint
On/off switch
Five translucent lid colors available
Description
Spectrafuge Mini complete with 1.5/2.0 ml rotor, strip tube rotor, 0.5 and 0.4 ml adapters, 230V, smoke grey lid , (add -EU or -UK to specify cord type)