Microplate Shakers
---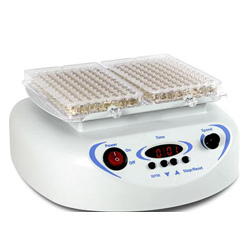 Microplate Shakers

PMS-1000i microplate shaker
Compact and efficient variable speed, horizontal shaker for reliable, regulated shaking of two or four microplates.
Variable shaking speed: 150 to 1200 rpm
Direct drive and brushless motor
Set and display the speed in rpm
Quick and easy screw fitting of standard-depth multiwell plates
Continuous or timed operation, with automatic switch off
Holds two or four microplates
Operating temperature 4°C to 40°C
Description
Microplate shaker for 2 or 4 plates, platform for 2 microplates included, rpm display, direct drive 150 - 1200 rpm
View More
Make a Request
Digital Microplate Shakers

Orbit™ Digital Microplate Shakers
The smallest of the Orbit™ Digital Shakers, the M60, P2 and P4 feature variable speed across a broad range, making them useful for a variety of applications. Both time of operation and shaker speed are set and displayed digitally, with their values shown on the large 3 digit LED. Parameters are selected with an easy turn knob. A sturdy base encloses the motor for quiet, vibration free operation. All three models can be used in temperature controlled environments. Their compact size makes them ideal for incubator use.
Large capacity - process 60 microtubes or 4 microplates
Resuspending, homogenizing, mixing or vortexing
Sturdy, compact construction
Suitable for cold room or incubator use
Catalog No.
S2020-P2-B-230V
S2020-P4-B
Description
Orbit™ P2 Digital Shaker with platform for 2 microplates
Orbit™ P4 Digital Shaker with platform for 4 microplates
View More
Make a Request